DYMO Label Writer

Disclaimer: DYMO add-on discontinuation


At the beginning of 2022, DYMO officially discontinued the LabelWriter 450 series of printers. Due to compatibility issues with the drivers and labels used by DYMO's 550 series, eLabNext has been forced to discontinue future updates to the DYMO LabelWriter add-on in the Marketplace and will end support for label printing on DYMO-brand devices in 2023.

The current version of the DYMO LabelWriter add-on will remain available in the Marketplace for customers who have already installed it. While the add-on is still live, eLabNext will continue to provide support where possible for the existing features.

In the meantime, we strongly recommend that any labs using a DYMO printer consider transitioning to one of eLabNext's other support printing solutions, such as the ZPL Printer or FLUICS Print add-ons.


To enable printing of barcode labels with a DYMO LabelWriter© in eLabJournal, install the DYMO LabelWriter add-on from the Marketplace.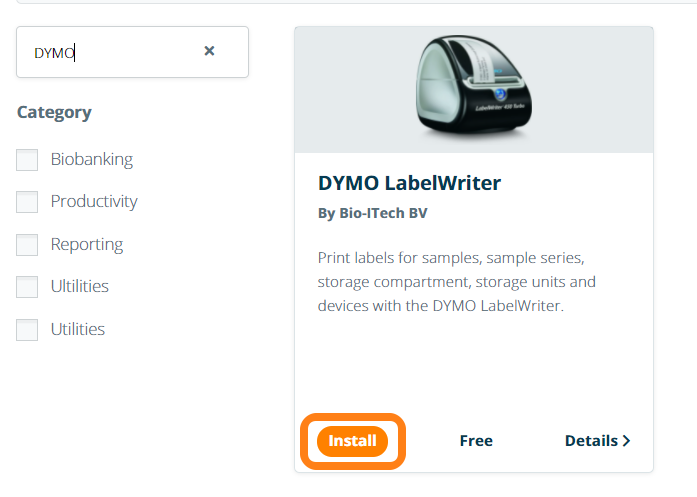 The use of the DYMO LabelWriter add-on additionally requires the following installation steps after add-on installation
Install the

DYMO Label

software on your computer. You can download DYMO Label for

Windows

or

macOS

and make sure to install DYMO Label

TM

8.7.3

(or later) on your computer (when choosing the custom mode, please make sure to include DYMO Label Web Services).

Note that DYMO Label and DYMO Connect are two different programs.

eLabJournal

only works with

DYMO Label sofware

.

The computer must be rebooted after the installation.

Connect the DYMO LabelWriter

©

to your computer

Open the DYMO Label

TM

software and print a label from the DYMO Label Software to assert that the printer and software are correctly installed on your computer.

If you cannot print labels after installing DYMO Label

TM

please reboot your computer.
If you successfully printed a label, your printer has been correctly set-up and you can activate the DYMO LabelWriter for your eLabJournal account. Make sure that under installed add-ons in the Marketplace the DYMO LabelWriter add-on is installed and active.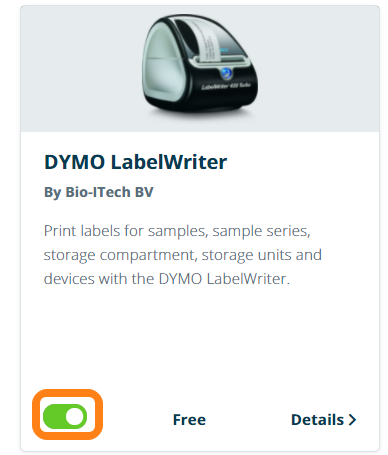 The option to print labels for samples, sample series, compartments and equipment is now available in eLabJournal.
Note that the DYMO LabelWriter© can also be installed as a network printer to make it available for the entire lab to print labels. Please make sure that on every computer from which labels should be printed, the DYMO LabelTM software is installed and that each user needs to separately switch on the DYMO LabelWriter for its account.
Printers and supported labels
Printing is supported on al DYMO LabelWriter© 450 models and a can be purchased at any local office supplier. In case you want to use cryo or chemical resistant labels, the labels of LabTag and Diversified Biotech are supported. Please note that there are different DYMO LabelWriter© for the EU and the US market. Certain labels are only compatible with EU DYMO LabelWriter©, others only work with US DYMO LabelWriter© and some are compatible with both DYMO LabelWriter©. Please check with your label supplier which labels are compatible with your DYMO LabelWriter©. If the type of label you need for your lab is not listed in the default labels in eLabJournal, please contact us
With DYMO LabelWriter 450 Twin Turbo it is not possible to use both spools. Only printing for the left spool is supported.
Troubleshooting
The option to print labels is not visible in

eLabJournal

– please make sure the DYMO LabelWriter

©

add-on has been installed and activated in the

Marketplace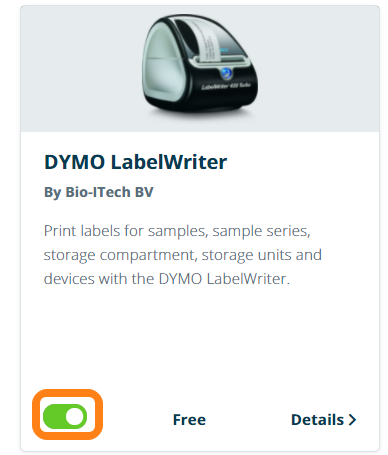 Printing labels does not work or printer is not found

– Make sure that DYMO Label

TM

8.7.3 is installed (although higher versions should work, 8.7.3 has been validated in all browsers). Uninstall other DYMO Label

TM

software versions first and reboot your computer to be sure to have a clean installation.
Printing labels does not work or printer is not found

– Is your printer directly connected by USB to the computer. When setting up the DYMO LabelWriter

©,

first set it up when connected directly to your computer to exclude any problems within your local network that causes printing issues
Printing labels does not work or printer is not found

– Make sure labels can be printed using the DYMO Label

TM

software. If this does not work, the problem is related to your computer or network.
Printing labels does not work or printer is not found

– Test in different web browsers (i.e. Firefox, Chrome, Edge or Safari) to test if printing labels works
Printing labels does not work or printer is not found

– Make sure that the DYMO Web Service is running and that browser printing is supported
Open DYMO Web Service from your system tray and confirm the status is set as

started on port 41951

(Default port). If the status is

stopped,

choose to

start service


If DYMO Web Service is not running in your system tray, you can start the DYMO Web Service by opening the executable named DYMO.DLS.Printing.Host.exe that is typically located in the folder where you installed the DYMO LabelTM software.
If the DYMO Web Service is running, click

Diagnose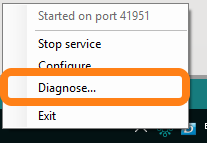 Confirm to open a test page to

check the certificate

Your browser will open and confirm that the following message is shown:

Congratulations! DLS Web Service is up and running. You can now print from supported web sites

: Note that his link will be opened in your default browser which may be a different browser you are using to print labels. Make sure to also open this link in the browser you are working in with

eLabJournal

by opening this link

https://127.0.0.1:41951/DYMO/DLS/Printing/Check

For Chrome enter the following in a new tab,

chrome://flags/#allow-insecure-localhost

and enable the highlighted setting. Restart your browser to ensure the acceptance of the DYMO self-signed certificate in your browser.
If this message is not shown, the DYMO LabelWriter© is unable to print labels from the browser. In that case, it is very likely that the IT department blocked port 41951-41960 (default port range for printing). Contact your IT department to open up this port or request an alternative port to allow communication from a web browser to the DYMO LabelWriter©.
If you followed all the above steps and label printing is still not working, please contact us. As the DYMO LabelWriter© is an add-on that requires several components to be properly installed, we are unable to support solving issues with printing that are unrelated to eLabJournal