Quick Start Guide
For

eLabJournal

Cloud, you can get started by signing up for an

eLabJournal

free trial

here

After completion of the registration, you will receive an email to activate a new account

Activate your account and login

here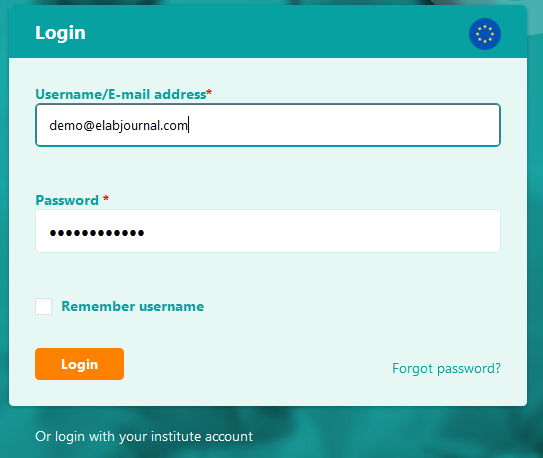 Enter the email address used to sign up and enter your password to log in. If organisation login is active for your organisation (SAML/LDAP/AD), please use the institute login option. Note that if your organisation has a dedicated installation of the eLabJournal Private Cloud or eLabJournal On-Premise, the links for the account registration and login is different. Please contact the key-user in your organisation for the correct URLs.
Create or Join a Group
After setting up your account, you will first need to set up a group in which you can organize and share data. A group is a secure environment for your lab, research group, or department within an academic institute or company to work jointly on projects. If your lab is already using eLabJournal, you can ask your group administrator to invite you to join an existing group.

Set up Electronic Lab Notebook
In eLABJournal, experiments are organized by the project. To set up a project start in the experiment browser. Projects organize a collection of studies, which, in turn, organizes a collection of experiments. Once you have defined a project and study, you can start adding experiments. Read tips and tricks on how to organize projects and studies in the Best Practices User Guide.

An experiment can be considered a blank page of a traditional, handwritten lab notebook but with added features. You can visually log data in the experiment by adding sections. There are sections to add text, samples, protocols, images, excel files, drawings and raw data files. By adding collaborators to an experiment you will be able to co-work as a team and easily share lab results respectively.

Set up protocol templates
To efficiently use eLabJournal, you can create and set up protocols or standard operating procedures (SOPs). You can find and copy frequently used protocols from the public repository in the Procedures menu. Protocols can be added to experiments to standardize how they should be carried out, thereby increasing the reproducibility. You can easily customize protocols and add dynamic fields (variables and formulas) to your protocol to adjust it, with just a few mouse-clicks, before adding them to your experiment.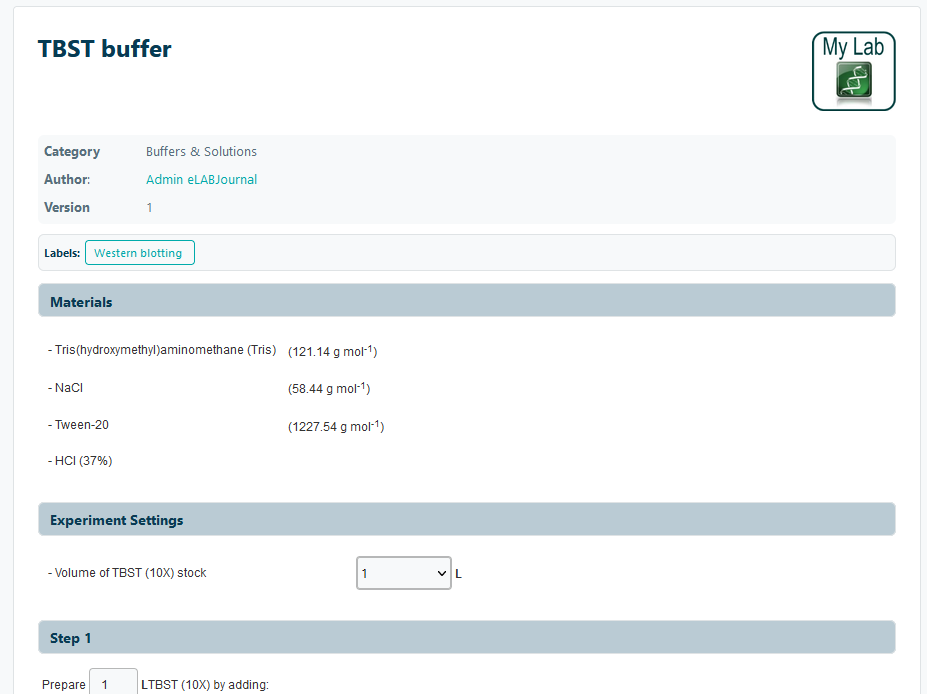 Invite Lab Members and set Permissions
Once you have completed the basic system configuration, you are all set to invite your co-workers to join your lab and start tracking their lab results. If your lab is not yet licensed, please contact us to activate a 30-day, no-obligation, free trial for your lab.

Once lab members are signed up, you can set permissions for each user by changing the user role. For each user role, you can define permissions with respect to viewing, adding, updating and deleting projects, studies, experiments, protocols, and samples. For example, permissions may be configured so that users can only view, update, or delete their own things but not those of other users.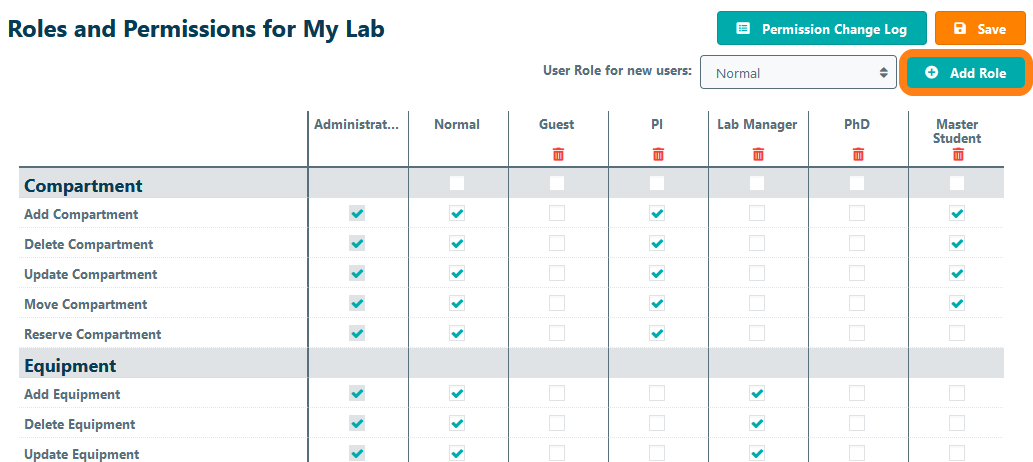 Additional Configuration Options
Supplies and Stock Management
Set up a central product catalogue that allows lab members to easily (re)order chemicals and consumables as they are used in the lab. If you enable the quantity-tracking feature, items can automatically be added to the lab shopping list if the stock runs below a certain threshold. The lab manager can collect and approve orders periodically to centralize ordering within the lab. Please contact us to activate supplies ordering for your lab.
Equipment monitoring and booking
Set up equipment in the lab, monitor periodic maintenance, or schedule validation events. Centralize equipment bookings by enabling the planner option for a device. Use the eLabJournal Mobile App to see when a device is available and create an immediate booking for your experiment.
Sample Barcode Labelling
Install a DYMO label writer or a ZPL printer and activate the print option label in your account settings. Now you will be able to print barcode labels for your samples. Label your tubes and access all sample information by scanning the 2D QR code with the eLabJournal Mobile App.
Experiment Templates
Standardize the format of the electronic lab notebook layout or set up a template for experiments or even an entire workflow. Once you have set up a workflow or template, you can choose to use this as the basis for new studies. As a group leader or supervisor, you can easily set up experiments and be sure that the correct steps are executed and all the required data is collected.
Project Groups
Projects can be organized by setting up project groups. A project group adds an extra level to the experiment browser to organize projects. Add users to a project group and adjust the collaboration setting to automatically give all users in the project group access to a project. You can also set up a project group to collaborate and share data with members from other labs.