eLABHybrid
Organisations with an eLABJournal Cloud or Private Cloud installation, can use eLABHybrid to link a local file server for the storage of large data files. After installation of eLABHybrid, uploaded files in the eLABJournal ELN will be directly stored to the local server. More information about eLABHybrid can be found here.
For organisations interested in setting up eLABHybrid, please contact us to request the technical specifications installation of the local server. eLABHybrid can be installed Linux webserver or a Synology Network Attached Storage (NAS). After installing the local server according the specification, the Private Cloud system administrator can set up eLABHybrid as follows. Labs working in the eLABJournal Cloud, please contact us for more information about pricing and installation instructions.
Navigate to eLABHybrid Settings in the System Admin Panel.

Select your organisation and enter the Local File Server URL as configured during the file server configuration. Note that it is important to make sure that the connection is secured (https:) as specified in the provided eLABHybrid technical documentation. Click Save and get eLABHybrid.

The eLABHybrid installation file will be generated for your organisation. Proceed by installing eLABHybrid as described below: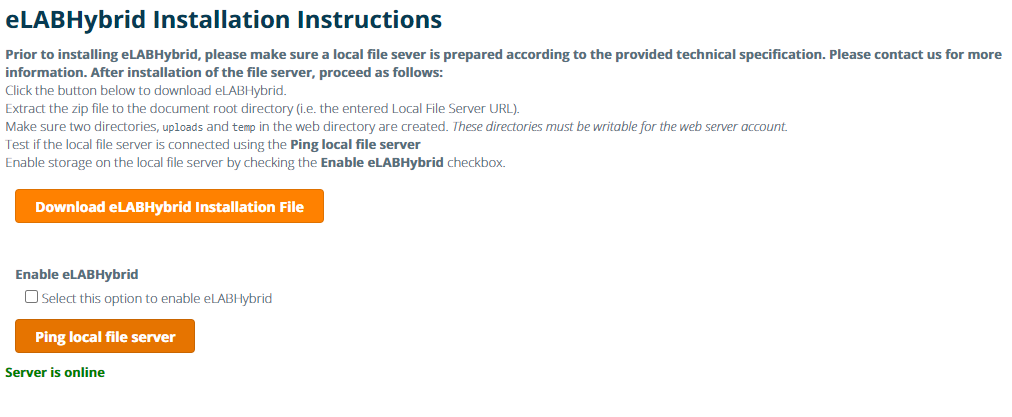 After installing eLABHybrid and confirming the sever connectivity, select the option Enable eLABHybrid. Activation of eLABHybrid will immediately result in the altering of the upload target for files in file sections within the ELN to the local file server.

In case of problems with setting up eLABHybrid, please contact us for more information.