Text Section
To enter free text in your experiment, choose a Text paragraph type
After adding the section click on the edit icon in the section header to open a text editor. An intuitive text editor will open that allows you to enter free text and offers the following basic functionality (find a more detailed description of all functionalities of the text editor here)
Text formatting -

bold, italic, underline, superscript and subscript

Text import

- import from Word either with or without mark-up

Text Styling -

font type, size and color of text

Lists -

ordered and unordered list

Alignment -

text alignment left, right, center or justified

Links

- link other experiments or external sources

Images

- upload images and include them in text section

Symbols -

symbols, special characters and Greek letters in lower case and uppercase

Mendeley Reference Manager

- Insert a link to Mendeley Reference Manager (only available if activated)
Enter the text and click on the Save button to store the information in the ELN. A new version of the data will be stored and the date and time in the section footer will automatically be updated.
To prevent data to be overwritten, sections are locked for editing by other users. When a user opens a section that is being edited by another user, the user receives a notification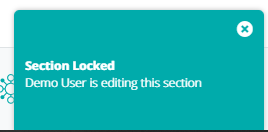 Auto-save and Data recovery
While editing a data in a text section, the content of a text section is automatically saved every 3 minutes. In case you did not save the data in a text section before leaving your experiment, you are able to recover any unsaved changes. When editing a section with unsaved changes, you have the option to restore unsaved changes.
Click OK to open the unsaved changes in the text section. In case you want to cancel the recovery of unsaved changes, you can restore a previous version.