Updating Sample Types
To update the sample type configuration, including the adding, moving or deleting of custom fields in a sample type, navigate to Configuration – Sample Types and click on the Edit icon for the sample type you want to update.
In the Sample Type form editor, you can change the sample type configuration by adding custom fields or updating, moving and removing custom fields. You can also change the sample type name and update the sample type quantity settings. If you change a sample type configuration by adding or removing fields the information stored for the existing samples is not affected. In case a field is removed, the stored data in this field for stored samples remains available. When a field is added, the field is appended to the sample entry form. Note that the quantity settings are only available when the Supplies and Ordering module is active. Please contact us to activate this add-on for your account or lab.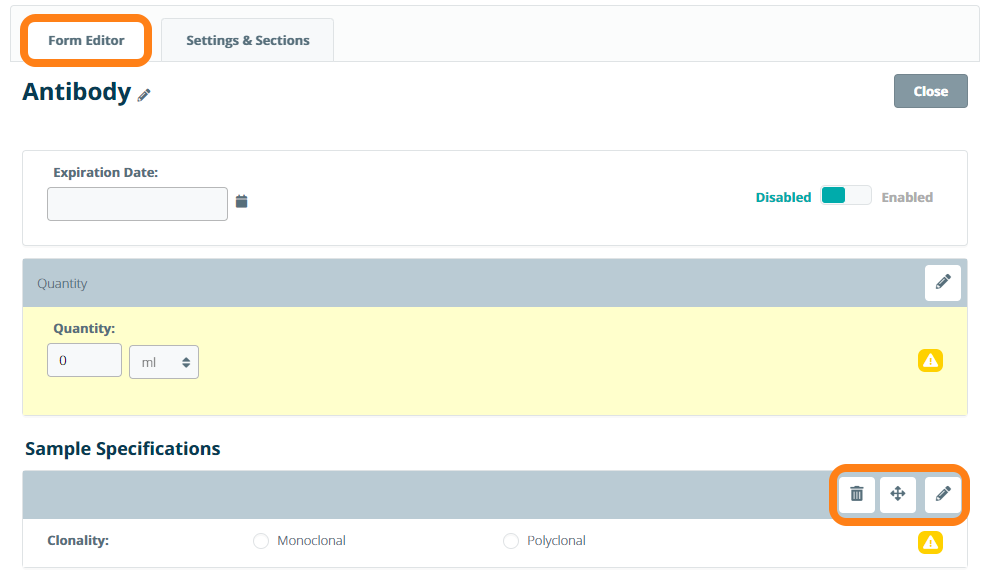 In the Settings and Sections Tab of the Sample Types editor, you can change the Sample Type Name, Description and Colour of the samples of this sample type within the system. Here you can also further customize sample types by adding (conditionally visible) Sample Type Sections.