Copying Protocols
To adjust a Public procedure or protocol shared in a Group according to your preferences, you can copy a protocol. Look in the Group or Public Procedures for the protocol you want to modify and click Copy.

Change the name of the protocol in the appeared pop-up menu to add it to your list of Personal Procedures. If you want the original author to be remained as the author in the procedure, uncheck the option to set yourself as the author of the copied procedure. Click ok to copy the procedure.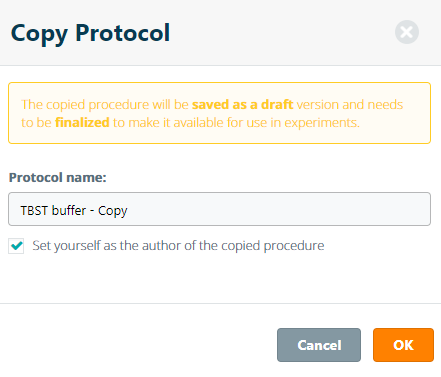 Open the copied protocol from the list and adjust it according to your needs. Note that copied protocols are initially created as a draft and can only be shared or become available as a template for in experiments after finalizing.
In the footer of the copied procedure, a link to the original procedure is added in the footer of the procedure.