Sample Section
To link samples from the lab inventory in the ELN, choose one of the Sample Sections. You can either add the section Used samples, to link samples that you have used in the experiment or link Generated samples that have been created in the experiment to which you want to link the samples.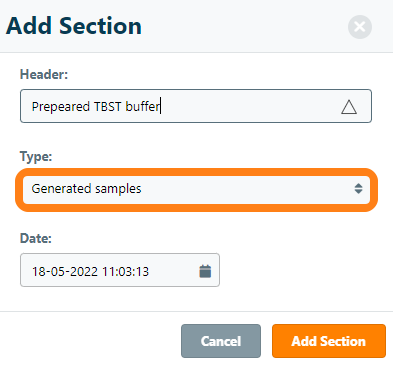 After a sample section is added, click on Add Sample to link a sample to the experiment. You can either choose to link a new sample or choose an existing sample selecting it from the lab inventory.

Once you link a sample, it will be listed in the sample table. From there you can update the sample or remove the sample from the section with or without archiving the sample. In the sample actions dropdown menu, you can perform the following actions:
Move Sample -

Move samples

to a different storage location

Print Label -

Print Labels

using a DYMO or ZPL label printer

Delete Sample -

Archive a sample

to remove it from the lab inventory

Remove from Section -

Remove a sample from a section.

To remove and archive samples in bulk, first delete and then remove the samples from the section.

Change Owner -

Change the owner

of a sample

With custom sample views, you can define which information you want to display in the table in the ELN sample section.

When a sample is linked in an experiment, that link is automatically listed in the corresponding field on the sample information sheet. In this way you can easily find back all data in which a sample has been used or when it was generated.